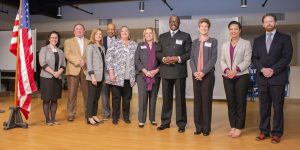 Panel Brings Together Local Businesses with Regional and State Representatives
Western Chester County Chamber of Commerce's Legislative Roundtable
Coatesville, PA- The Western Chester County Chamber of Commerce held its annual Legislative Roundtable at Pope John Paul II Regional Catholic Elementary School (PJPII). The event was an open-panel discussion between elected officials and local business owners, moderated and sponsored by Alan Novak, Esq. of the Rooney Novak Isenhour Group. The Chamber extends gratitude to Dr. Sarah Kerins, Principal of PJPII for hosting the event.
The 10-person panel was made up of regional and state representatives who answered questions on topics including the development status of the Coatesville Train Station, agricultural issues concerning local dairy farming and the Spotted Lantern Fly infestation, as well as accessibility to resources for local businesses to enhance their service to the community. The event reiterated the need for coordination across local, state and federal levels to ensure future progression of projects in the region.
During the event, the Western Chester County Council of Government's President, John McHugh of Honey Brook Township and Vice President Kathy O'Doherty of Valley Township presented Michelle Kichline, Kathi Cozzone and Terance Farrell certificates of recognition for the wonderful support that the Chester County Commissioners provided including their involvement in transportation and technology initiatives. The Western Chester County Council of Government (WCC COG) is a group of thirteen municipalities working together to provide regional solutions and cost saving initiatives for their member municipalities.
Panelists included: Commissioner Kathi Cozzone, Commissioner Terence Farrell, Lara Flynn from the Office of Senator Bob Casey, Commissioner Michelle Kichline, Representative John Lawrence, Amber Little-Turner from the Office of Senator Pat Toomey, Representative Christina Sappey, Sue Walker from the Office of Congresswoman Chrissy Houlahan, Representative Dan Williams and Don Vymazal from the Office of Senator Andy Dinniman.