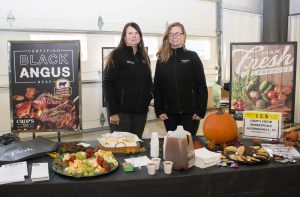 Agricultural Summit, October 24, 2018
With 99% of farms in Chester County being family owned and operated it is important to support the local farms as they support us! Chamber members gathered at the Romano 4-H center in West Brandywine Township to explore farming and how it relates to our local businesses and community. The Chamber welcomed four speakers to discuss opportunities and challenges for agriculture in western Chester County.
First speaker, Farmer Don Cairns expressed the importance of agricultural within our community and society, both locally and nationally. He explained how the farming community works together on a common ground to ensure our community has access to safe, affordable and quality food. Don added that food and fiber production from the agricultural community is not only the foundation of our economy but is the foundation of our entire society. Without it, we would not have the fuel we need to sustain.
Don highly encouraged attendees to ask 4-H members and alumni about their positive experiences throughout their time in the 4-H program. He included that 4-H adds another level of extra-curricular education that expands on the curriculum taught in schools. He also proudly shared that recently a group of girls from the Chester County 4-H went on to win titles in the state and national level for their commitment in the 4-H program.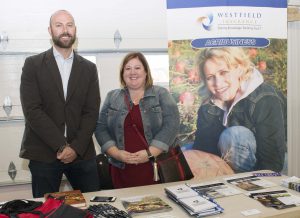 Next, Dan Miller from the Chester / Delaware County Farm Bureau explained how the organization is made up of volunteers committed to ensuring that the agricultural community has access to the resources and advocacy needed for sustainability. With over 7,900 members, the Bureau focuses on local strengths and issues such as the Equine Industry's economic impact and Lyme Disease Prevention in our area.
The Bureau issues about 15 scholarships a year to students pursuing an agriculturally related field of study. In addition, they are very involved within the school system by providing books and other materials to further AG education.
For more information please visit: www.chesterdelawarecountyfarmbureau.com
Following the Farm Bureau's presentation, Renee Ryan shared her experiences at Yellow Springs Farm as an assistant Cheese Maker and Marketing Specialist. Renee explained that the farm specializes in artisanal goat dairy and cheese and maintains a native plant nursery. She added that Yellow Springs integrates the native plants as ingredients in the cheese. The farm is located in Chester Springs and is founded and operated by Catherine and Al Renzi. The Renzi's have a passion for land conservation, which led to restoring and enhancing native plants on their farm and inspired them to educate others on the importance of conservation landscape.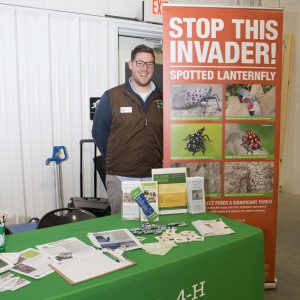 Logan Hall from the Penn State Extension wrapped up the speaker series with an overview of his organization and the threat of the Spotted Lantern Fly. He explained that the Penn State Extension ensures our community has access to science-based education. The organization offers a variety  courses and
opportunities in the fields of 4-H youth development, agronomy, animal systems, energy, entrepreneurship, health, food safety, and horticulture. Chamber members learned through Logan the dangers and preventative measures for the Spotted Lantern Fly, an invasive species that has invaded our county. For more information on how to help the AG community manage the Spotted Lantern Fly please visit extension.psu.edu/spotted-lanternfly.
Thank you to our event sponsors-
Crops Fresh Market Place, the Wright Agency, and Mid Penn Bank.
Mid Penn Bank Ag Lenders Jeff Stanko and Stan Michonski were in attendance at the AG Summit to consult and answer any questions regarding financing ag business.
The Wright Agency has been insuring farms, markets, and other various ag related businesses for over 40 years here in western Chester county.  Westfield was also in attendance at the AG event and are one of the Wright Agency's partners and main insurance carriers.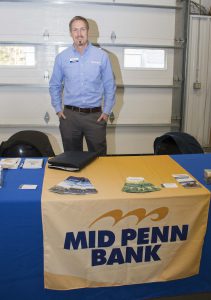 Thank you to our AG Vendors-
Conebella Farm in Elverson is an award-winning 100% Ayrshire dairy farm specializing in cheese that is made from all natural ingredients with the milk from their own cows.
Highland Orchards in West Chester has over 200 acres of growing crops available to visitors in there farm market. They offer pick-your-own options as well. Its bakery features delicious apple cider donuts and the farm hosts various events such as hayrides and group tours.
Highspire Hills Farm in Glenmoore is an egg producer for home and farm to table restaurant use. The farm feeds its chickens with certified organic feed and are available from the farm store, Kimberton Whole Foods markets, Crops Fresh Marketplace and Shady Maple Farm Market.
Glenmoore Deli and Country Market is locally sourced food store in a community and family friendly setting in the historic and beautiful village of Glenmoore. Glenmoore is proud to carry local artisan's products in the market.
Victory Brewing Company brought its homemade rootbeer to the AG Summit. The brewery is a craft brewery that uses German malted barley, a mix of European and American whole flower hops, 45 unique yeast strains and the highest quality local water to create its refined brews. Victory is one of only a small handful of breweries in the country that exclusively uses whole flower hops in the brew house thanks to its partnerships with hop farmers.
Windy Hill Farm in Parkesburg specializes in growing English Lavender, which they sell in many creative forms such as dried bundles, satchels, sprays, fire-starters and more. In addition, the farm has a produce stand that sells vegetables during the season and a small orchard with apples, peaches, plums, pears, pluots, and cherries.
Chester County 2020 has the Keep Farming First Program that supports agriculture and helps preserve agricultural lands. They organize AG education through workshops, seminars, and the OABEST program at Octorara Area Schools.
Octorara Area School District | Future Farmers of America offers students in agricultural pathways opportunities that prepare them for leadership, personal growth and career success. The AG mechanics department encourages students to get involved with agriculture.
Crops Fresh Marketplace located in Downingtown is open daily with aisles of fresh food options. The market owned by the Cropper family, has a long history of servicing the community and are proud to feature other local family-owned food providers in its market.