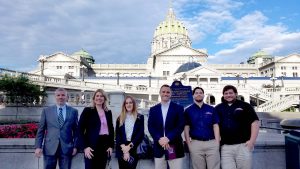 Western Chester County Chamber Participates in Annual Chamber Day
Harrisburg – With the state budget deadline quickly approaching and the General Election right around the corner, more than 100 state and local chamber representatives from across the Commonwealth gathered in Harrisburg today for the 2018 Chamber Day at the State Capitol. The annual event, which is co-hosted by the PA Chamber of Business and Industry and the Pennsylvania Association of Chamber Professionals, provides a forum for constructive dialogue between local chamber officers and key policymakers on key issues important to the state's business community and the best ways to improve the Commonwealth's business climate.
Participants met with several elected officials throughout the day; including: Senate Pro Tempore Joseph Scarnati, R-Jefferson; Speaker of the House Mike Turzai, R-Allegheny; House Appropriations Majority Chairman Stan Saylor, R-York; and Democratic Chairman Joseph Markosek, D-Allegheny. The keynote luncheon speaker was Republican Gubernatorial candidate and former state Sen. Scott Wagner. The event also featured policy discussions on a variety of critical topics, including: the upcoming 2018-19 state budget, the state's opioid epidemic, workforce development, federal issues that impact employers, as well as the upcoming 2018 General Election.
In addition to the PA Chamber and the PACP, Chamber Day 2018 was sponsored by the following organizations: Beaver County Chamber, Bedford County Chamber, Blair County Chamber, Central PA Chamber, Chamber for Greater Philadelphia, Chester County Chamber, Greater Reading Chamber Alliance, Greater West Chester Chamber, Lancaster Chamber, Lebanon Valley Chamber, Main Line Chamber, Schuylkill Chamber, Western Chester County Chamber, Westmoreland Chamber, Williamsport/Lycoming Chamber, Wyoming County Chamber and the York County Economic Alliance.
The Pennsylvania Chamber of Business and Industry is the state's largest broad-based business association, with its statewide membership comprising businesses of all sizes and across all industry sectors. The PA Chamber is The Statewide Voice of Business™.
The Pennsylvania Association of Chamber Professionals (PACP) is the professional society of chamber of commerce executives and staff for the Commonwealth of Pennsylvania.