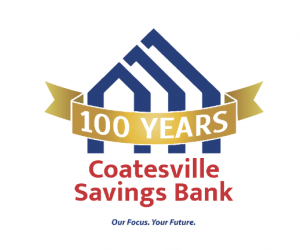 Coatesville, PA.- Coatesville Savings Bank in partnership with the Western Chester County Chamber of Commerce (WCCCC) hosted a ceremony this morning to celebrate the bank's 100th year anniversary. The bank has upheld its founding principles to this day by maintaining expansive community involvement and dedication to customer service.
Introductory remarks of the event were presented by Chamber President, Karl Klingmann II.  Citations in recognition of the bank's significant contributions to the surrounding communities were presented by the following Officials: State Representative Dan Williams, Steve Grabicki from the Office of Senator Dinniman, Diane O'Dwyer from Commissioner Cozzone's Office, Amber Little from the Office of Senator Toomey and Brian LaForme Executive Deputy Secretary of Banking.
Joseph Carroll (President and CEO) of Coatesville Savings extended thanks to the Board of Trustees and employees for their commitment and dedication. Joseph shared the bank's history which started in 1919 when fifteen men brought together their resources, totaling 200 hundred dollars, and united to create the Industrial Building and Loan Association. This new entity offered a chance at home ownership to those whom it would not otherwise be readily available.
Steve Cunningham (SVP/Senior Lender) shared his perspective, "My journey has recently led me to the position of SVP of Lending. It has been a journey of challenges, survival and community. Those 3 words not only can describe my journey, but also the journey of Coatesville Savings Bank, as well as the City of Coatesville." Steve explained that Coatesville Savings Bank has expanded to four branches; Coatesville, New Holland, Georgetown and Oxford.
In the spirit of community involvement, Sharon Croll presented Nate Hoffer, Chief Executive Officer of Good Samaritan Services a $1,000.00 check for furthering the non-profit's efforts in providing shelter, housing and supportive services to individuals and families experiencing homelessness in Chester County.
The bank's centennial celebration will continue in the form of a Community Day, scheduled for May 18th, 2019 at the Coatesville Branch and several more events at each branch location throughout 2019.
_____________________________________
The Western Chester County Chamber of Commerce was formed in 1916 as the Coatesville Chamber of Commerce, and is the oldest chamber of commerce in Chester County. It became the Western Chester County Chamber of Commerce in 1975, and currently has 380 members and serves 23 municipal areas in the County's dynamic and growing western region. WCCCC's mission is to connect our members to new ideas, resources and relationships to achieve their goalsCall the WCC Chamber at 610-384-9550 or visit www.westernchestercounty.com
Coatesville Savings Bank is a state-chartered, FDIC-insured, mutual savings bank headquartered in Coatesville, Pennsylvania. The Trustees and employees of Coatesville Savings Bank are committed to providing outstanding customer service, competitive products and services, and involvement and support for the communities they serve.