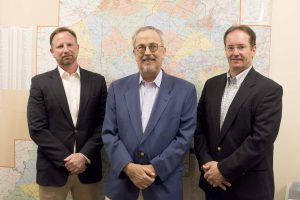 May 22, 2018 | Our annual Future Focus program highlights the chamber's continued commitment to foster the goals set by our regional economic development study which can be found on both our chamber website and our ChescoWest website. Our ChescoWest website was created to help market and brand our western Chester County region.
This year, the event took place at the Chester County Safety Training Facility on May 22nd. Michael Markman, President of BET Investments presented ideas on How to Attract a Good Developer. BET Investments' projects include Promenade at Upper Dublin, Granite Run Mall and the development of the Waterloo property in Exton.
Joe Duckworth, founding partner of Arcadia Land Company, highlighted their Traditional Neighborhood, Sadsbury Park. The community features sidewalks, front porches, driveway and garages set behind the houses in addition to a community center and swimming pool.
Bill MacCauley, President of John Rock, America's Premier Pallet Manufacturer, spoke about the growth of his company since moving to western Chester County. Bill stressed the importance of municipalities working together with local businesses to stregthen the community and allow opportunity for business growth.