WCC Chamber Celebrates Annual Dinner
Strong businesses create strong communities.
[Coatesville, PA, November 2018] The Western Chester County Chamber of Commerce hosted its Annual Dinner at the Coatesville Country Club with the theme of Strong Businesses Create Strong Communities. Throughout 2018, Board of Directors President Donna McCorkle dedicated her term to ensuring local businesses are aware of chamber resources that assist in strengthening local business and community well being. The theme continued through the night with the recognition of two award recipients dedicated to servicing the region.
Donna Horvath from the Honey Brook Partnership presented Tom Tracy with the Chamber's Joseph G. Filoromo, Jr. Community Service Award. The award recognizes an individual who enlists their leadership skills with an unselfish dedication to volunteerism. Tom has more than 50 years of experience in education business and management. He has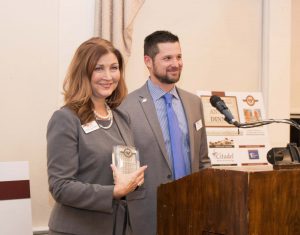 combined his professional and personal experience to serve his community and dedicate his time to many organizations. As a board member of Brandywine Hospital, a committee member for the Honey Brook Partnership and a long-standing member of St. Peter's Knights of Columbus, Tom has no shortage of volunteerism under his belt.  He lends his service to Tel Hai Retirement Community in more ways to count and is a constant presence in many community programs
 A surprise turn to the night was the announcement of the awardee of the Elliott R. Jones Award. The award is granted to a candidate who has contributed services in making WCC Chamber a viable organization. Board member, Alissa Griffith began the presentation by stating that the honoree, Greg Vietri, is an excellent example of what the Chamber is all about. Greg had dedicated his time and talents to support the Chamber and the entire Chester County Community.
Greg is the owner of G.A. Vietri Inc. and joined Western Chester County Chamber Board of Directors in 2016. He has hosted the Annual Municipal Update since 2006, which is the chamber's most resourceful signature event. Greg serves on the Regional Planning Committee and lends his knowledge of new businesses and expansions occurring in the area.  However, his greatest contribution to the Chamber is his presence on the Membership committee, where he enlists his experience in growing the chamber.
As the night continued, Karl Klingmann from Penn Rise Advisors was announced as WCCCC's incoming Board President for 2019-2020.  Karl said, "The Chamber exemplifies what this region means, in terms of- it is small, it is local, and personal. We're a tight knit community focusing on doing well for each other, as well as the community."
The ceremony came to conclusion with Past President, Mike Guyer presenting Donna McCorkle with the President's plaque for her leadership of the Chamber in 2018.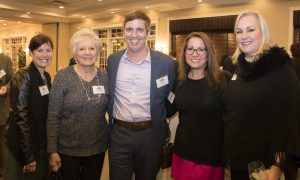 Western Chester County Chamber of Commerce is a regional non-profit organization focused on connecting businesses to new ideas, resources, and relationships to achieve their goals.
If you would like more information on the Chamber please contact Rachel Cathell at 
Rachel@westernchestercounty.com