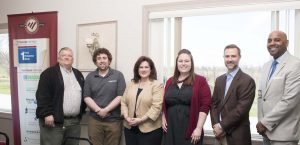 April 23 | WCCCC held the second annual workforce event, What's Working. The event shined light on how businesses are acquiring and keeping skilled workers. Thank you to our moderator James Logan, Senior Manager of Business & Community Development of Chester County Economic Development Council (CCEDC). Together the panel and attendees learned from one another's insight on the workforce issues our community is facing.
Brian Camfield, Manager of Gas Engineering for PECO, explained a program his company started with 5 local community colleges including Delaware County. The course is a five week certificate program that trains workers for repair and replacement of gas lines. PECO has hired 50 to 70 graduates through this program, which rotates between the various colleges.
Lindsey Ackell, Regional Human Resources Manager of CTDI, highlighted the company's ten week robust internship program that exposes interns to the full scope of various departments including design, engineering, and customer service. CTDI has partnered with the Chester County Intermediate Unit to create job shadowing.
Clara Console, Owner & President of Choice Careers LLC, provides consulting and workforce development services by integrating business, industry and academia. As Clara often comments, "The nation's industries are not just experiencing a skills gap, but a 'candidate' gap. The need to grow the employee pipeline is a MUST-HAVE. There just aren't enough people being career-coached, encouraged, trained and hired into their respective industries to match the current, nor future, workforce needs."
Greg Pilotti, Owner of Greg Pilotti Furniture Makers, offered practical advice for companies; train your future employees! He encouraged businesses to get up from the desk and start investing time and work, particularly within schools. As a graduate of Thaddeus Stevens, Greg has hired most of his employees from the well-known trade school. Greg also lives by the value of complete honesty. Greg holds a Monday morning financial, sales, expense and profit meeting. Pilotti presents the employees with problems and allows them flexibility to figure out the solution. This team camaraderie assigns responsibility, provides room for employee growth, and cultivates a healthy workplace team.
Ralf Weiser, Quality, Health, Safety &
Environmental Leader of Aerzen USA, provided these words of wisdom, "Make your own employee" by utilizing co-ops and internships. Employers are actually the ones on being interviewed these days. Young professionals are looking at the whole picture; what your company offices look like, the collaboration between different departments, and your company's core mission and values. Ralf recommends spending time with business leaders and youth programs such as the Coatesville Youth Imitative, Boy Scouts, and the Technical College High School. This gesture allows companies to connect; people, planet, and prosperity.